History of Formation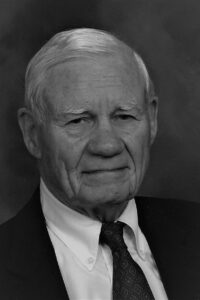 Edward W. ("Ed") Siebert (1927-2015) joined Rotary Club of Peoria-North on December 15, 1994. Bob Lamoureaux sponsored Ed's membership into the Club. Ed was a corporate executive for Caterpillar, Inc. for 40 years, starting at The Trackson Company in Milwaukee, Wisconsin before its acquisition by The Caterpillar Tractor Company. He was later named Vice President and Manager, Caterpillar Foundation.
After joining the Rotary Club of Peoria-North, Ed contacted Jim Tomlin in 1997 to encourage the Club to create its own foundation to more effectively support local philanthropic projects. Suzanne Smith was President at that time - the first female President of Peoria-North. A proposal was submitted to Rotary International to form the Rotary Club of Peoria-North Foundation. In November 1997, Rotary International approved the Articles of Incorporation for the Foundation.
On January 6, 1998 it was formally incorporated under State of Illinois provisions. The Rotary Club of Peoria-North provided initial funding of $10,000. In December 1998, an Internal Revenue Service (IRS) determination letter established the tax-exempt status for the Foundation, under Internal Revenue Code 501(c)(3). This key step allowed the Foundation to accept tax-deductible contributions and to make distributions to causes, based upon the IRS guidelines.
The first meeting discussion notes from the Foundation meeting of January 19, 1999, show that Edward Siebert was the first President of the Rotary Club of Peoria-North Foundation. Other Foundation officers were:
Suzanne Smith – Secretary
Bryce Hessing – Treasurer
Jeffrey Shelton – Director
Kathy Fuller – Director
James Tomlin – Director
Ronald Quilhot – Director
Roy Endres – Director
Douglas Thorson - Director

The Annual Appeal was introduced in the 2005-2006 Rotary year. Contributions to the Annual Appeal are tax-deductible, due to the 501(c)(3) status of the Foundation. The concept of the Annual Appeal was that Club community support goals would be better achieved by a single, concentrated appeal rather than several, frequent fundraising requests to Club members. The Annual Appeal has allowed the Club to fund countless initiatives. These include: community support grants, adopt-a-school programs, local projects, and youth programs.
The Peoria-North Foundation operates under a Constitution, By-laws and a Mission and Objectives statement. The Foundation is governed by officers and directors, who are members of Peoria-North. All members of the Rotary Club of Peoria-North are members of the Foundation.